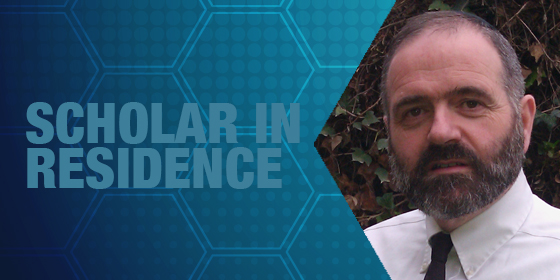 Program Date(s):
5:00 AM Saturday May 13, 2017
Venue:
159 Almore Avenue,
Toronto, ON M3H 2H9.
Torah in Motion is delighted to welcome Rabbi Meir Fachler as Scholar in Residence at the Or Chaim Minyan for Shabbat, Parshat Emor, May 13.
On Thursday, Rabbi Fachler presented "Learning to Think Like a Talmid Chacham: A Talmud Learning Workshop." Rabbi Fachler led a hands-on workshop on how Gemara Berura's uniquely crafted software, combined with a fresh but traditional approach to learning, can help enable every Jewish child to approach any Mishna or Gemara and decipher what it is doing (shakla vetrya), and using that to work out what it is saying (content).
Schedule:
After Kiddush: A Game of Sources: Keywords and Their Role in Talmudic Thinking
In this shiur, we will explore what went wrong with Talmud study and why; how to fix it; what the Gemara Berura approach is; and how it can put us back on course. We will learn a short piece of Gemara that will spotlight a critical skill set, namely, understanding how the pivotal role of authoritative sources and their pecking order impacts on how the drama of the Talmudic dialogue takes shape.
7:00 pm: Mishna Made Possible 
Mishna is the bedrock of Torah Shebeal Peh, and it's the foundation of all Gemara.  Moreover, studies show that if Mishna learning skills are mastered properly, the transition to Gemara learning is less traumatic and more successful. 
The mission of this shiur will be to focus on the major Mishna learning skill set, namely, the Mishna's in-built pre-shakla-vetarya system that allows us to decipher the non-linear Mishna text according to what we call the COMD'T classification system of Coteret, Omer, Mikre, Din and Ta'am (Title, Author, Case, Ruling and Reason).  
At Seudah Shlisheet: Religious Zionism: Past, Present, and Future
Between Yom Haatzmaut and Yom Yerushalayim is a great time to revisit the rise and development of Religious Zionism. In this shiur we will provide a brief analysis of the theological and practical underpinnings of Religious Zionism as it emerged in the 19th century in its various forms, and trace it to the present day and beyond…