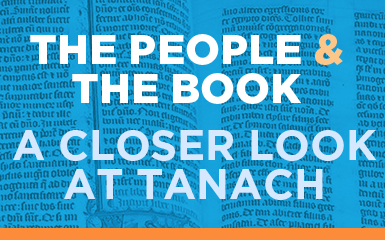 Program Date(s):
2:15 PM

to

7:00 PM

Sunday Mar 4, 2012
One of the paradoxes of modern Jewish life is that Judaism's central text- the Torah- is often neglected for other kinds of study. Yet all of Jewish reality can be traced back to this cornerstone document of Western civilization. Join some of today's greatest Tanach scholars as they analyse and investigate fascinating passages and themes of the Tanach in order to shine a light on issues such as Judaism and politics; the question of evil; can a Jew argue with previous authorities on how to interpret the Bible; what does Tanach teach us about God; and much more.
Sponsored by Stewart and Carol Lesser
9:15am
An Introduction to Midrash
Dr. Tammy Jacobowitz
OR
Knowing G-d in the Book of Exodus
Rabbi David Silber
10:15
The Yeshiva and the Academy: Similarities,
Differences, and What We Can Learn From One
Another in Bible Study
Rabbi Hayyim Angel
OR
Why Did Mordechai Not Bow Down to Haman?
Rabbi Nathaniel Helfgot
11:15
The Life, Worldview & Influence of Rabbi Obadiah Seforno: A 16th Century Renaissance Rabbi
Rabbi Hayyim Angel
OR
The Art of Partying: Studying the Mishteh (drinking)
in the Megillah
Dr. Tammy Jacobowitz
12:15
Isaiah As One of the First Midrashists?
Rabbi Nathaniel Helfgot
OR
Amalek and the Two Faces of Evil
Rabbi David Silber
OR
The Missing Name of G-d in the Megillah (Hebrew)
Rabbi Baruch Weintraub
1:00
Light Lunch and Panel Discussion
Freedom of Interpretation: When Are We
Allowed to Disagree With Hazal?