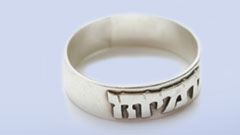 Sponsored by Esther and Craig Guttman in memory of Esther's mother, Breindel bas Yeshayahu, z"l, and by Pam and Ian Rosmarin.
Program Date(s):
11:30 PM Wednesday May 14, 2014

to

2:00 AM Thursday May 15, 2014
Venue:
Beth Avraham Yoseph of Toronto Congregation
The Joseph and Faye Tanenbaum Synagogue Centre
Admission is $15 with advance registration, $25 at the door

TiMPass holders and students, no charge

Few topics in contemporary Orthodoxy evoke as much passion and discussion as that of shidduchim and marriage. Articles and advice columns abound regarding whether there is a shidduch crisis; whether young people are prepared for marriage; whether the shidduch scene reflects genuine or distorted Jewish values. In a can't-miss panel discussion at the BAYT in Toronto, Torah in Motion explores the world of shidduchim, marriage and the pressure of relationships in the frum world today.

See our flyer here!
Screening of the YU Connects film, Dating and Marriage, followed by a panel discussion with an introduction by Sasson V'simcha.

Is there a Shidduch crisis, and what are its distinctive components?

How do we decide what criteria are really important to us in a partner, and do the factors that are stressed in the actual shidduch process today match what we would see as appropriate Jewish values?
What is the role of the shadchan, and is it misunderstood?
Are young people (and their parents) looking for the right things in contemplating a match?
How involved should parents be?
How does technology hurt or hinder the process?
Is a boy learning in perpetuity the highest value for marriage?
If a girl desires a boy who is going to go out and work, does that limit her chances of a shidduch?
And much more...

Moderated by Dr. Elliott Malamet.