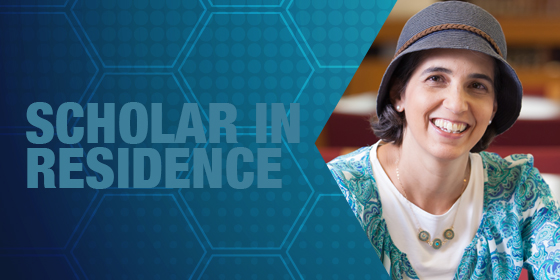 Sponsored by the Gutenberg and Kelman families in observance of the yahrzeit of Rabbi Joseph and Ruth Kelman, z"l
Program Date(s):
4:30 AM Saturday Jun 24, 2017
5:30 AM Sunday Jun 25, 2017
Venue:
Please see program page for further location information.
Sunday, June 25, 2017:
Zichron Yisroel Congregation of Associated Hebrew Schools, 300 Atkinson Avenue, Thornhill
9:30 am: The Evolving Role of the Rabbinate Through the Generations
Dr. Tova Ganzel is the Director of the Midrasha in Bar-Ilan University, and one of Nishmat's first 
trained yo'atzot halakha. She completed her PhD in the Bible Department at Bar-Ilan University. 
She is the author of A Visionary's Oracles – From Destruction to Restoration, Studies in the Prophecies of Ezekiel, and is among the editors of In the Eyes of God and Man: The Believer and Scientific Study of the Bible.
Sponsored by the Gutenberg and Kelman families in honour of the Yahrzeit of Rabbi Joseph and Ruth Kelman z"l
Shabbat Scholar in Residence June 24, 2017:
Or Chaim Minyan, 159 Almore Avenue:
Shiur after kiddush: Between the Kingdom of G-d and the Kingdom of Man
7:15 pm: Can the Divinity of Torah and Biblical Criticism Be Reconciled?
Seudah Shlesheet: When Halacha Meets Democracy: Contemporary Halachik Challenges in a Jewish State
Clanton Park Synagogue, 11 Lowesmoor Avenue: 
Women's shiur 6:00 pm:  Rosh Chodesh: A Women's Holiday