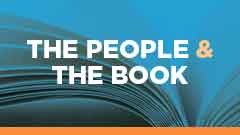 8th Annual Tanach Conference
Program Date(s):
9:30 AM

to

1:30 PM

Sunday Mar 30, 2014
Venue:
Shaarei Shomayim Congregation
470 Glencairn Avenue,
Toronto, Ontario
M5N 1V8
Canada
Leaders & Speakers:
Dr. Anna Urowitz-Freudenstein,
Pre-registration is now closed. We look forward to seeing you on Sunday, when you will be able to register at the door.
Join us for what promises to be a fascinating day of learning, with well-known speakers addressing interesting topics. Refreshments will be served.
$18 in advance, $30 at the door. Students and TiMPass holders, no charge.
All registrants will receive free MP3s of all sessions.
Sponsorships are available from $180, and include 4 admissions.
Click on the "register now" button above to both register and sponsor.
To listen to MP3 recordings of sessions from previous "The People and the Book" y'mei iyyun, click here.
To see our flyer, click here.
Tentative schedule is subject to change. Topics include:
9:30 am
From G-d to Moshe: The Transformation of ‫Pesach, Rabbi Zvi Grumet
or
Pru u'Rvu: A Commandment or a Blessing? Rabbi Menachem Leibtag
10:30 am
Kabbalat Shabbat: The Themes and Meta-Themes of Mizmorim 95-99, Rabbi Nathaniel Helfgot
or
Matza: The First Fast Food, Rabbi Alex Israel
or
My Sacrifice, My Food - Midrashim for Rosh Chodesh Nisan: Text Study from Pesikta deRav Kahana, Dr. Anna Urowitz-Freudenstein
11:30 pm
The Rise and Fall of King Solomon, Rabbi Alex Israel
or
Re-examining MAGID, in Light of Sefer Devarim, Rabbi Menachem Leibtag
or
The Moral Imperative in the Thought of Gersonides, Dr. Alex Green
12:30pm
Was Moshe a Historical Revisionist? Rabbi Zvi Grumet
or
Kriat Yam Suf in Prose and Poetry: Themes and Emphases, Rabbi Nati Helfgot