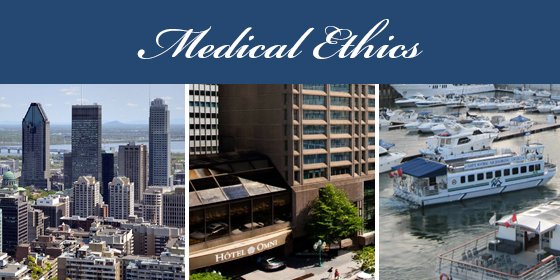 9th International Conference on Jewish Medical Ethics
Program Date(s):
4:00 PM Thursday Jul 13, 2017
to
12:00 PM Sunday Jul 16, 2017
Leaders & Speakers:
Professor Avraham Steinberg M.D.,
Rabbi Dr. Edward Reichman,
We are pleased to announce that registration for the 9th annual JME conference is now open, and our Early Bird special pricing is still active through May 30!
This year our conference will be held July 13-16, 2017 at the beautiful OMNI Hotel in Montreal, Quebec.  
This beautiful setting will serve as a backdrop to a great Shabbat weekend of inspiring learning and camaraderie, and our conference has been approved for up to 15.5 CME credits!. 
Montreal is one of North America's most cosmopolitan cities with a distinctly European flare. It is a city of great charm, as well as one of unquestioned modernity. Walking the streets of Montreal is an experience, especially in the historic centre known as Old Montreal. This charming district offers a window into the city's rich history with its cobblestone streets and architectural styles ranging from the 16th century to the present. 
Rabbi Dr. Aaron Glatt, Dr. Ethan Halpern, Dr. David Pelcovitz, Rabbi Dr. Edward Reichman and Rabbi Dr. Avraham Steinberg have confirmed their plans to join us.
We will have a full parallel track of general interest, so feel free to invite friends and family who are not medical professionals to join us for a beautiful weekend in Montreal. Optional extensions will be available as well.
Looking forward to seeing you at JME 2017.
Selected topics (subject to change):
The Year in Review: Bioethical Highlights of 2017
Medicine of the Talmud: Can It Be Used Today?
Medical Marijuana & Jewish Law
Slicing & Dicing Genes: CRISPR Technology in Jewish Law
The Baby with Three Parents: Mitochondrial Manipulation Technology
Cryogenics in Jewish Law
Managing Scarce Resources
Complementary & Alternative Medicine in Jewish Law
The Trolley Problem: A Jewish Perspective
Accepting Disabilities: Does It Impact Jewish Law?
Professionalism in Medicine
Adolescents Refusing Care
Technology & Visiting the Sick
A Reunion of Jewish Medical Graduates of Renaissance Italy
Ethical Cases in End-of-Life Care
Moot Court: The Bioethics Committee Deliberates
Lefties in Science & Jewish Law
Ask the Experts: Q&A
Psychological Aspects of Screening
Premarital Genetic Screening
Prenatal Screening & Whole Genome Diagnosis
Is There an Obligation to Disclose Results of Screening Tests? 
To see topics from the 2016 Conference, click here.